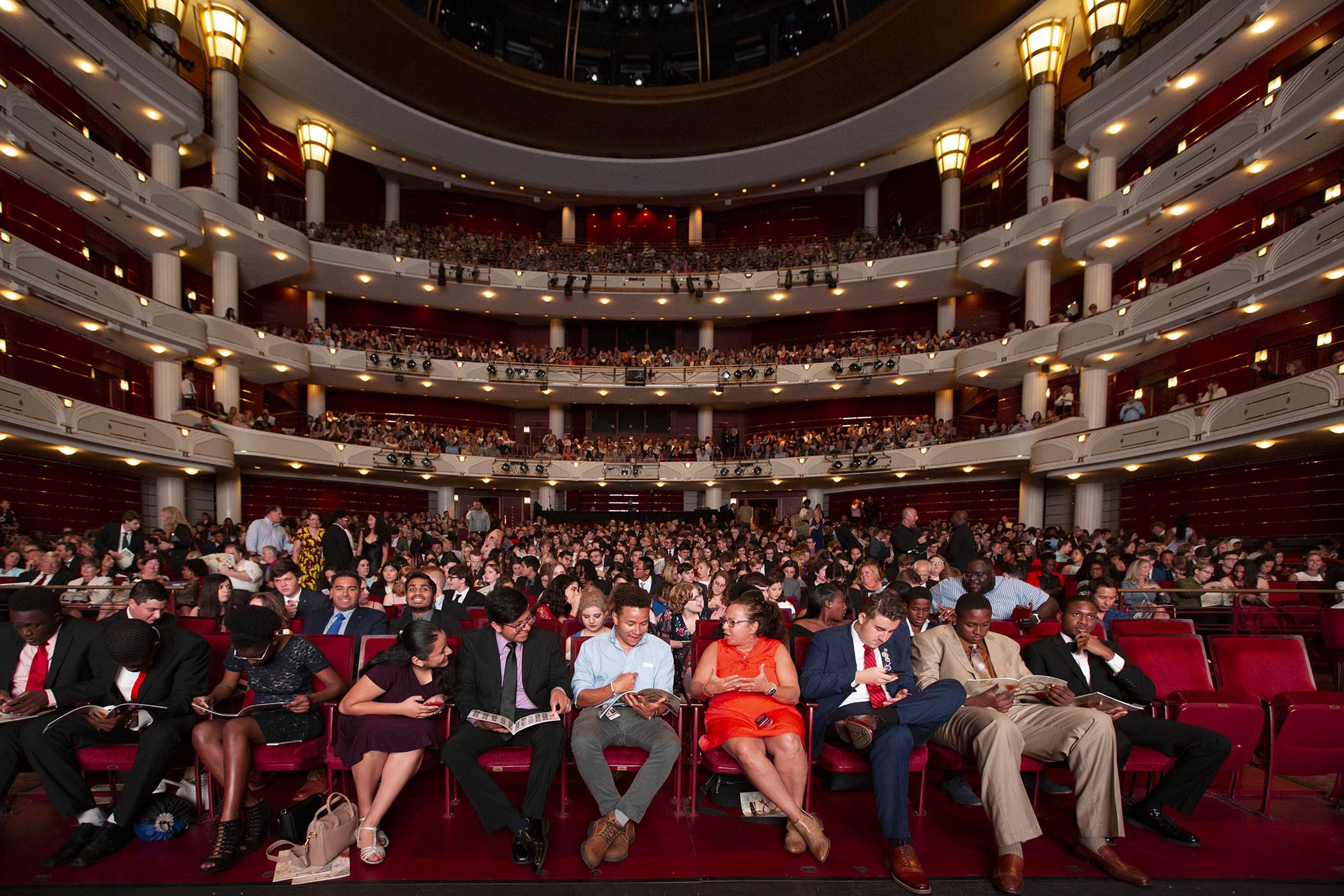 Pathfinder Awards 2019: These cancer-fighting, charity-building teens didn't wait for adulthood to think big
Dozens of the region's most outstanding high school seniors were recognized Tuesday at the 2019 Pathfinder High School Scholarship Awards.
By Andrew Marra
WEST PALM BEACH — They organized voter-registration drives, collected shoes for impoverished children, researched new ways to detect lung damage and breast cancer.
They studied contamination in Palm Beach County's waterways and designed computer programs for predicting sea levels in the Gulf of Mexico.
And they still haven't graduated high school.
For their outsize achievements, dozens of the region's most outstanding high school seniors were honored Tuesday at the 2019 Pathfinder High School Scholarship Awards, a pomp-filled, bass-thumping ceremony at the Kravis Center for the Performing Arts.
The 36th annual event, organized by The Palm Beach Post, recognized 54 students for outstanding achievements in 18 categories, from drama and computer science to community involvement and literature.
The first-place winners were announced with a blast of pop music and shrieks of excitement from fellow students, then presented onstage with a trophy shaped as an astrolabe, an ancient tool used to navigate ships via the position of stars in the sky.
The honorees hailed from public and private high schools across Palm Beach and Martin counties, all united by an extraordinary passion for their particular interests.
Many winners were striking for the sheer precociousness of their achievements. Take Justin Wang, a Suncoast High School senior who took home the top award for mathematics.
He competes annually in math tournaments hosted by Harvard and the Massachusetts Institute of Technology. He has worked with Florida Atlantic University researchers on a computer model to forecast sea levels.
He proposed improvements to a computer algorithm that works to detect signs of breast cancer. And he has published research in four academic journals.
"His knowledge of the applications of mathematics surpasses that of any teenager I have ever worked with," wrote Randal Oddi, the chair of Suncoast High's mathematics department.
All the Pathfinder winners excelled in their studies, but none were merely excellent students. Winners distinguished themselves with the variety of their achievements and passions that extended beyond the classroom.
Natalie Navarrete, a Boca Raton High senior named the top winner in the academic excellence category, maintained straight A's throughout high school and is poised to graduate at the top of her class.
In an essay, she wrote that she hopes to apply her wide range of interests to government policy-making in order "to craft and present unique solutions to the political problems facing our nation and the world today."
But Navarrete's achievements were hardly limited to the classroom. At Boca Raton High, she was an award-winning member of the debate team and organized a club that registered students vote, then sent them into their communities to encourage others to vote.
Her commitment, her studiousness, her maturity and poise combine to make Navarrete "fearless and a born leader," her teacher said.
"In a world where rendered resumes and constructed characters are commonplace, Natalie's authenticity and humility is a gift," Christina Hessing, a government and politics teacher at the school, wrote in a nominating letter.
For some of the evening's winners, their passions took them beyond academics and into a world of service.
Joseph Rubsamen, a senior at Oxbridge Academy, visited Nicaragua as a boy and was shocked by the number of impoverished children and adults he saw who could not afford shoes.
Returning home, he started collecting used shoes and sneakers, and in 2014 he formed a non-profit organization, Shoes2You, to distribute them to people in need.
To date, Shoes2You has donated more than 15,000 pairs of shoes to needy people in Florida and four developing nations.
Along with his work at the nonprofit, Rubsamen organizes student volunteers to work at a local homeless shelter and has done research investigating the sources of bacterial fecal pollution in the county's waterways.
Tuesday evening, he was awarded the top Pathfinder award for community involvement.
"Joseph is the kind of person who sincerely believes there is value when we all succeed," wrote Teresa Thornton, an Oxbridge biology teacher, in a nominating letter.
All told, more than 500 students at nearly 50 high schools were nominated for the Pathfinder awards this year. The winners were selected by judges who reviewed nomination letters and applications and interviewed all the nominees.
Each of the 18 first-place winners receives a $4,000 scholarship, while second- and third-place winners receive scholarships worth $3,000 and $2,500, respectively.
Though there were just 18 first-place Pathfinder winners, just being among the more than 500 nominees was an honor in and of itself, Palm Beach Post Publisher Timothy Burke told the audience.
"You are officially part of a very select group of super scholars whose achievements amaze and inspire," Burke said.