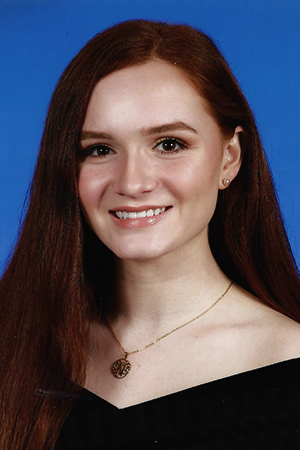 Academic Excellence
Winner
Natalie Navarrete
Boca Raton High School
Natalie Navarrete is ranked first in her graduating class and is a National Merit Semifinalist. She has an honors point average of 5.7. She's the only student at her school to have earned the prestigious AICE International Diploma with Distinction her freshman year. During her high school career, Natalie was named the Most Outstanding Student in AICE Spanish, AP English Language, AP Spanish Literature and AP Physics. This year she's captain of the Congress Team in Congressional Debate. Natalie founded "Improving Voter Opportunities Through Education," or IVOTE. The goal: educating first-time voters by simplifying the complex language of legislation, amendments and ballot initiatives. One project, encouraging classmates to register to vote and to exercise their right to vote, resulted in the highest student involvement of all participating institutions nation-wide. Natalie plans to pursue a career in politics.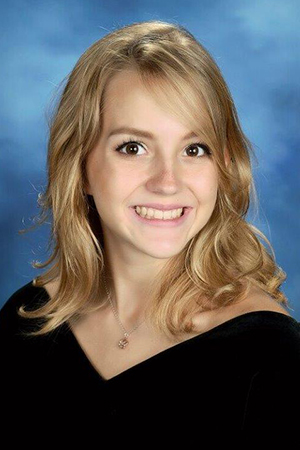 Academic Excellence
2nd Place
Charlotte Justak
Jensen Beach High School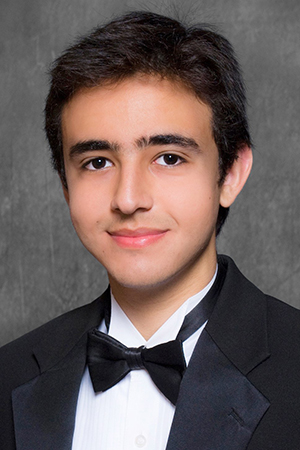 Academic Excellence
3rd Place
Robert Zipper
American Heritage School
---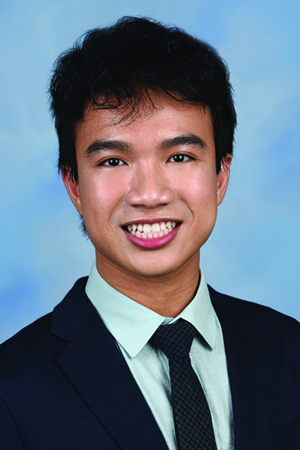 Art
Winner
Khanh Truong
Saint Andrew's School
Khanh Truong, who goes by "Keith," is a student with extraordinary talent for the visual arts.  Great artists throughout time are known for their innovative ideas and exploration into new media. Keith does just that in his work. He creates powerful narratives but also experiments with various media in new ways. His artwork conveys his commitment to the creative process, exhibiting images that are dynamic, engaging, and deeply personal. Because of this and his focused drive and career path, Keith was our winner for this year's awards!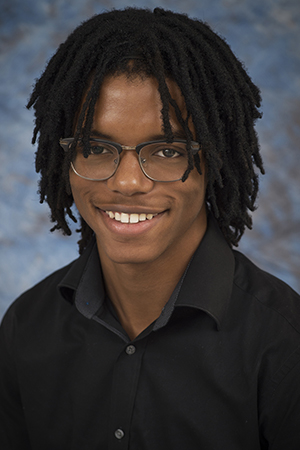 Art
2nd Place
Njari Anderson
Dreyfoos School of Arts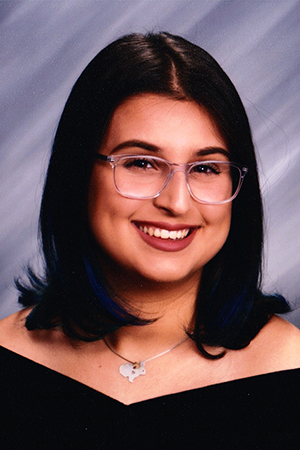 Art
3rd Place
Mia Zaros
Atlantic High School
---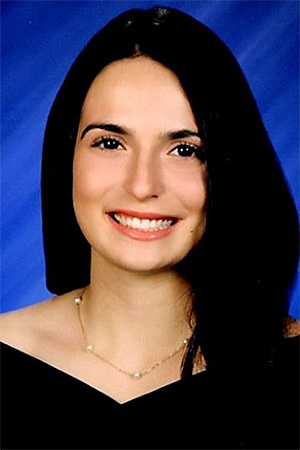 Business
Winner
Jordana Schube
Wellington High School
Jordana Schube has applied her marketing talents both in and out of school. She's taken rigorous courses in the Marketing Academy, two of them college level classes. She has a 4.69 honors point average. In DECA, the student marketing association, she serves on the executive board. She placed in district and state DECA competitions and was an international qualifier. Jordana initiated a student-run organization to unify students against gun violence, growing it from one chapter to 40 in 13 states. Among her many outside activities, Jordana works with a real estate company. Her jobs include designing Royal Palm Beach Living magazine's monthly cover and postcard. She maintains their website and social media platforms. She's also a consultant for an e-commerce company, developing their logo and website. Jordana's goal is to start a marketing consulting firm specializing in small business growth.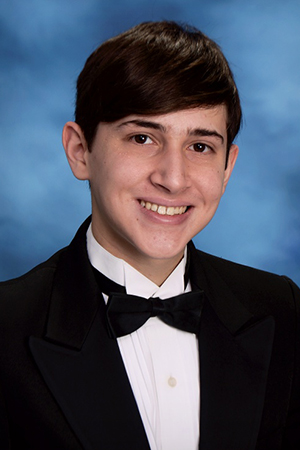 Business
2nd Place
Adam Herold
Dreyfoos School of the Arts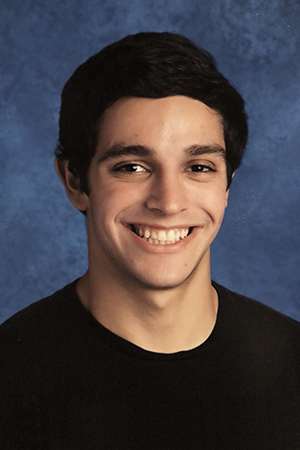 Business
3rd Place
Jonathan Fogel
Martin County High School
---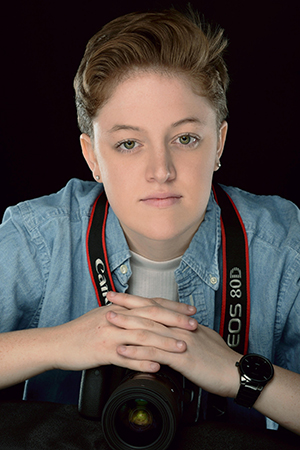 Communications
Winner
Valerie Betts
Dreyfoos School of the Arts
Film is Valerie Betts' passion. She's dedicated her middle and high school careers to becoming fluent in the world of video production. In 2015 she founded Valography Productions. Valography provides photography and video sevices for business, sporting events and weddings. She holds a leadership position in the Communication Arts Honor Society and is president of her school's Film Association Club. She's the multimedia editor for Dreyfoos' newsmagazine, The Muse. Valerie is credited with growing The Muse's YouTube channel from 400 to 3,000 subscribers in just one year. Valerie has produced eight short films and nine news packages. She directed her school's live on-stage Communication Arts Showcase two years in a row. Her 2018 film, Table 9, shown at the school's annual film festival, is under consideration at several local and national film festivals. Valerie intends to major in Communications and Film.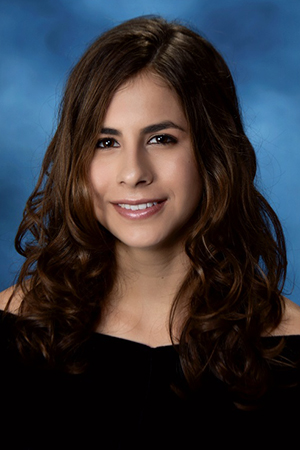 Communications
2nd Place
Annalise Wellman
Park Vista High School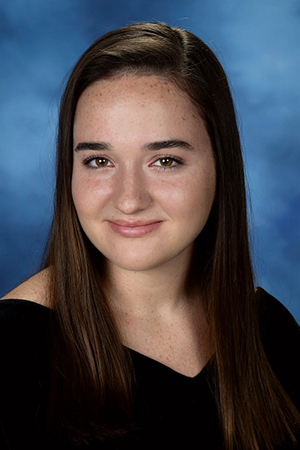 Communications
3rd Place
Grace Vaughn
Jupiter High School
---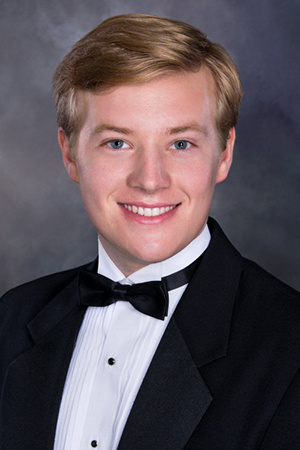 Community Involvement
Winner
Joseph Rubsamen
Oxbridge Academy
When Joseph sees a problem, he ambitiously finds a solution. After a family trip to Nicaragua where he saw a great need for shoes for needy children and adults, Joseph Rubsamen found Shoes2You. Shoes2You is a non-profit organization that's provided nearly 15,000 pairs of shoes to needy kids and adults in both the U.S. and abroad. In Nicaragua he realized that not having shoes increased the chances for cuts and scrapes on the feet, leading to infection. Shoes collected have been distributed in Kenya, Indonesia, Nicaragua, Haiti and Palm Beach County. The top student in his class, Joseph's curiosity on why he couldn't swim in the ocean due to contaminated water led him to identify the unknown source of bacterial pollution in Palm Beach County. He's presented his award-winning research at numerous water conferences. Joseph plans to attend Cornell University, majoring in biological global health, while continuing to run Shoes2You.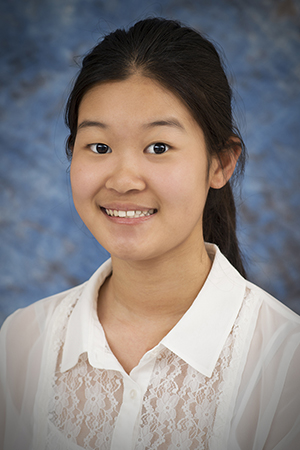 Community Involvement
2nd Place
Sophia Zheng
Dreyfoos School of the Arts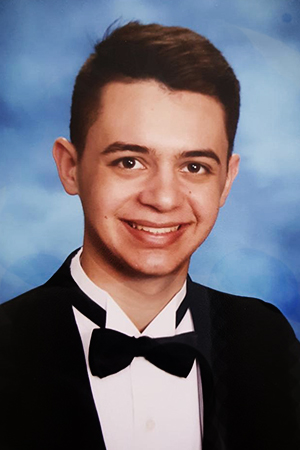 Community Involvement
3rd Place
Jacob Pasternack
Olympic Heights High School
---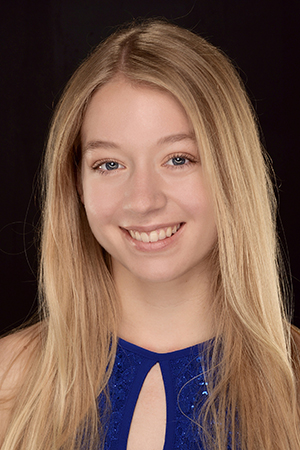 Computer Science
Winner
Karen Copeland
Dreyfoos School of the Arts
Karen Copeland sees computer science as the future. She became even more convinced after conducting research at the University of Florida last summer in its Student Summer Training Program. Creatively employing her computer science knowledge, Karen wrote code related to analyzing lung vessel damage in cancer patients who receive radiation to the lung. Marveling at the detail and documentation in her paper, her professor said he'd never seen its equal, even among graduate level students in his lab. The year before, Karen performed research at the Max Planck Institute that produced analytic and diagnostic power, also never seen, in image analysis. Her awards have included first place in the Palm Beach Regional Science and Engineering Fair for 2017/2018 and Intel's Excellence in Computer Science Award in 2017. Karen wants to become a software designer at a research institution.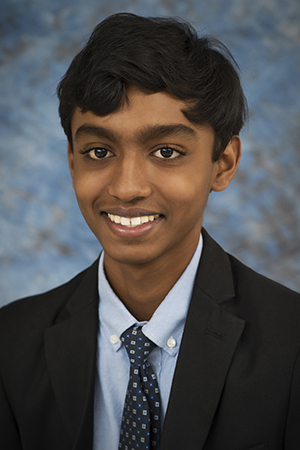 Computer Science
2nd Place
Varun Lakshmanan
South Fork High School
Computer Science
3rd Place
Michelle Huang
Spanish River High School
---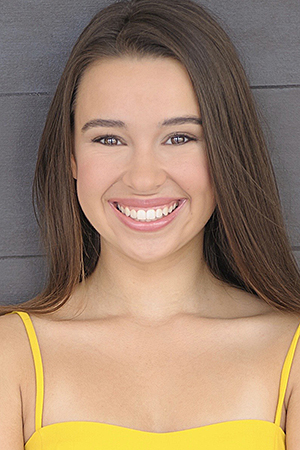 Drama
Winner
Olivia Payson
Dreyfoos School of the Arts
It was her role at age 6 as Rope Twirler #1 in "Annie Get Your Gun" that Olivia Payson knew theatre would be her life's work. To prepare, she's had 14 years of dance training and eight years of vocal and acting training. She boasts more than 15 productions and showcases for which she performed, worked on camera or was part of creative teams as a director/choreographer. During her junior year, Olivia was a key performer in a peer's choreography piece, "Money," from Cabaret. It won the coveted Critic's Choice at the ITS State Festival. As president of her school's International Thespian Society, Olivia implemented Lunch Time Cabarets. These venues give students a place to be the lead, performing any piece of their choosing. Olivia plans to move to New York after college to pursue her art.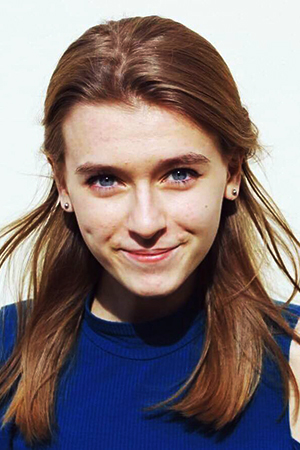 Drama
2nd Place
Sophie McClung
South Fork High School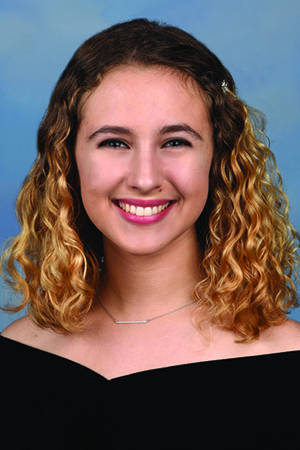 Drama
3rd Place
Bria Weisz
Saint Andrew's School
---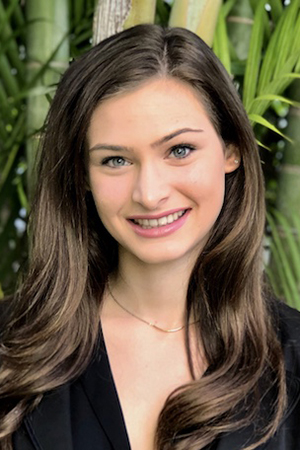 Foreign Language
Winner
Chloe Curreri
Boca Raton High School
Chloe Curreri is fluent in four languages: English. Spanish. Catalan. And French. She's also proficient in Ilonggo, a language spoken in the Philippines. In the past three years Chloe has competed in the Palm Beach County World Language Fair. She won "superior" ratings there for Spanish impromptu speech and French reading comprehension. Her junior year she won "Sobresaliente," the highest achievement, and Excellent, at the Florida State Spanish Conference. She is president of the French Honor Society and co-president of the Spanish Honor Society and Model United Nations. In those roles Chloe helps plan cultural events and celebrations to encourage students to learn about other cultures. Chloe tutors Spanish for fellow Boca High students and volunteers at a local French elementary school. She's earned Gold Biliteracy Seals for both Spanish and French, and the AICE Diploma with merit.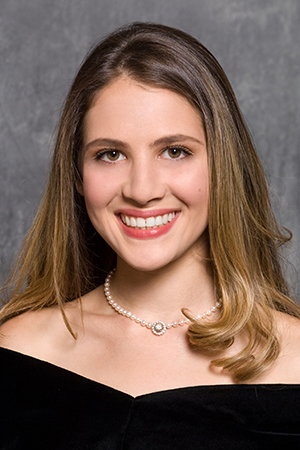 Foreign Language
2nd Place
Morgan Teman
American Heritage School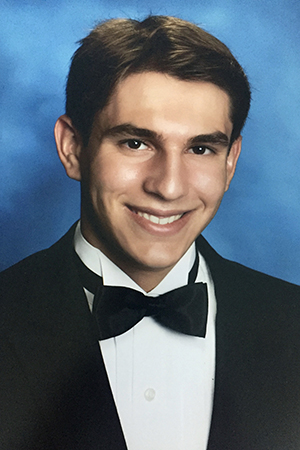 Foreign Language
3rd Place
Bryce Sontag
Olympic Heights High School
---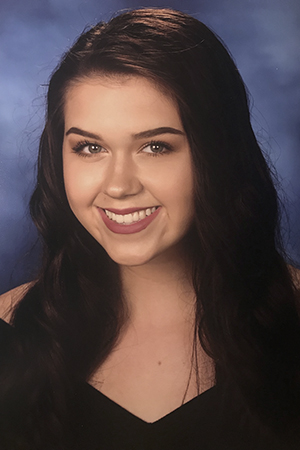 Forensics/Speech
Winner
Emily Williams
Martin County High School
Emily Williams is ranked 13th in the State of Florida in Program and Oral Interpretations. She's been a quarter-finalist, semi-finalist and finalist in nearly a dozen national forensics tournaments. She is president of the Speech and Debate Team and Historian for the National Honor Society and the International Club. As Speech and Debate Team president, she has run tournaments, fundraisers and performance showcases. Passionate about ending violence against women and changing the culture that perpetuates it, Emily has become engrossed in political advocacy. Her activities have included attending protests, speaking at marches, hosting voter education assemblies and interning on a congressional campaign. Emily has maintained a 6.06 weighted GPA while taking numerous AP, Honors and College level courses. She plans to be a political science major in order to continue asking the hard questions and discovering the harder answers.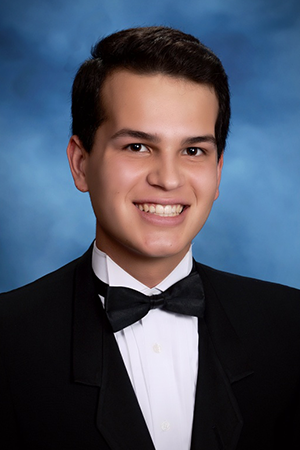 Forensics/Speech
2nd Place
Michael Bole
Dreyfoos School of the Arts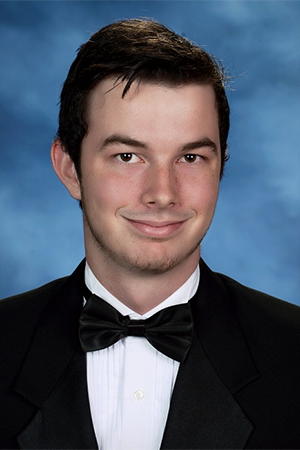 Forensics/Speech
3rd Place
David Jakubiak
Jupiter High School
---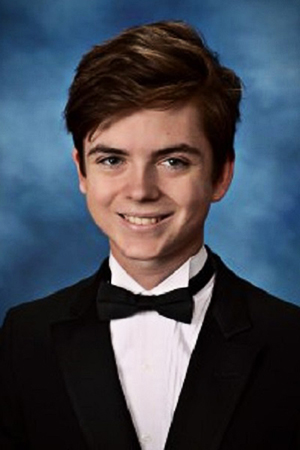 History/Political Science
Winner
John McCabe
William T. Dwyer High School
John McCabe developed a passion for history after competing in Social Studies Academic Games in 5th grade. Since then he's channeled his love of history into a variety of outlets. He's qualified for 7 state and 7 national Academic Games tournaments, winning first place individually at the national tournament four times. He's one of only 128 players in the 55-year history of the program inducted into its National Hall of Fame. In 2018 John was the highest-scoring player in the county on the social studies questions at the Commissioner's Academic Challenge. John, an Eagle Scout, founded an Academic Games Summer camp to teach kids how to play Academic Games. He's also authored a 371-page book, Guide to the American Presidents, detailing the presidents' personal lives and significant events during each administration. John hopes to enter government service after college.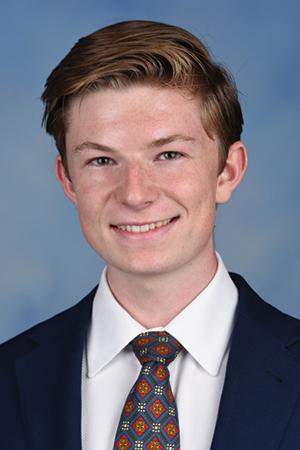 History/Political Science
2nd Place
William Keen
Saint Andrew's School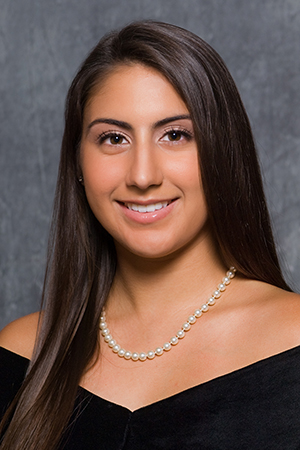 History/Political Science
3rd Place
Mia Venezia
American Heritage School
---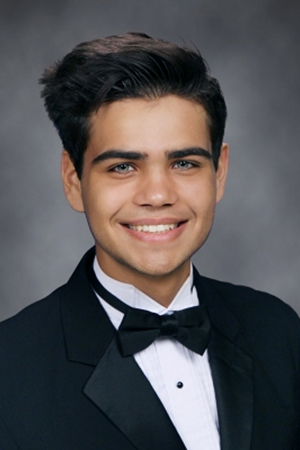 Literature
Winner
Jakub Pawlowski
Suncoast High School
Jakub Pawlowski's native language is Polish, yet he's been able to master not only reading and understanding English but writing it well enough to be published. His first poem was published when he was eight. By eighth grade he began entering writing competitions and was published as a freshman in the Palm Beach County Poetry Competition. One year, Jakub won the Austin International Poetry Festival and was published in the festival's anthology collection. Jakub is an AP Scholar, with a 4.9 cumulative weighted GPA, and candidate for the International Baccalaureate Diploma. He is co-founder of the English Honor Society at Suncoast. As a Reading Buddy volunteer at his local library, Jakub helps younger students with reading, pronunciation, vocabulary and fluency. He plans to major in English or Comparative Literature, earn a Ph.D. and become an educator.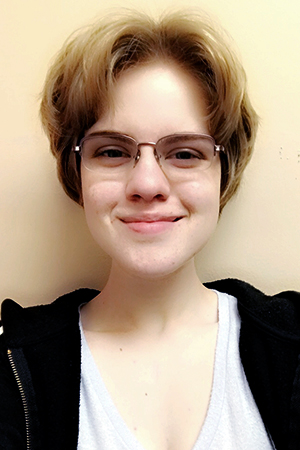 Literature
2nd Place
Katelyn Grosek
G-Star School of the Arts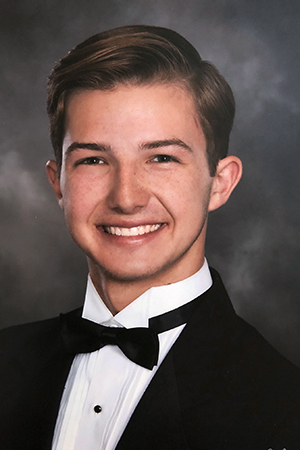 Literature
3rd Place
Andrew Deferrari
The Benjamin School
---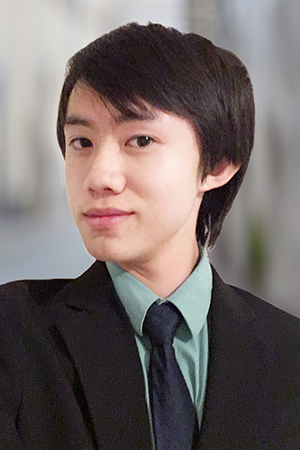 Mathematics
Winner
Justin Wang
Suncoast High School
Justin Wang is enrolled in the Computer Science Magnet and International Baccalaureate programs at Suncoast. He's dual-enrolled in Statistics, Calculus 3 and Differential Equations. Justin has won numerous awards, including 2018 Math Mentor of the Year and AP Scholar with Distinction in 2017 and 2018. He's won over 15 regional, state and national awards in calculus and was in the top 2.5% nation-wide in the 2018 American Mathematics Competition. Justin interned last summer as a researcher at FAU in computer science and electrical engineering. He currently interns as a software engineer for South Florida Engineering Consulting. Justin has co-authored four studies published in peer-reviewed journals, two as lead researcher. He's a volunteer coach for Suncoast's competitive Algebra II team, dubbed the "Wang Gang." Justin's goal is to build a start-up company that leads to the next technology wave.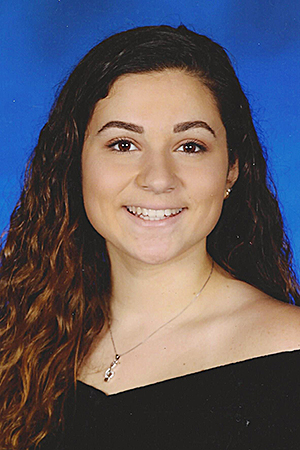 Mathematics
2nd Place
Kaila Tartaro
Boca Raton High School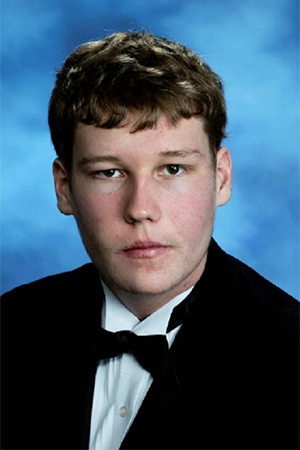 Mathematics
3rd Place
Alexander Karaluz
West Boca Raton High School
---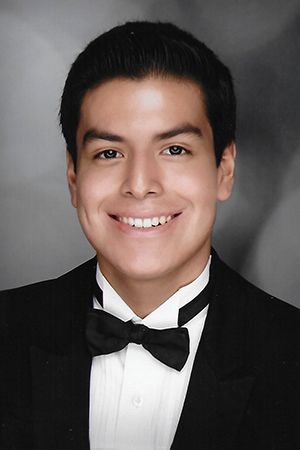 Music/Instrumental
Winner
Giancarlo Llerena
Dreyfoos School of the Arts
Giancarlo Llerena, an accomplished pianist, has earned more than two dozen prestigious music awards since 2012. In 2019 he was the National Young Arts Foundation winner in Classical Music. The year before, he won first place in six competitions, among them the Steinway & Sons Junior Piano Competition and the Pompano Beach Piano Competition. Among 21 notable performance venues were the Tanglewood Theater in Boston, the Aspen Music Festival and three Florida Steinway Halls in 2018. He's currently enrolled in Ensemble IV, Klavier, his school's most advanced piano class, and is the pianist for the school's philharmonic orchestra. For the past two years, Giancarlo has served as co-vice president for his school's piano department. Giancarlo handles all those roles, and more, while maintaining a 4.46 honors point average. He plans to study piano performance and become a concert pianist.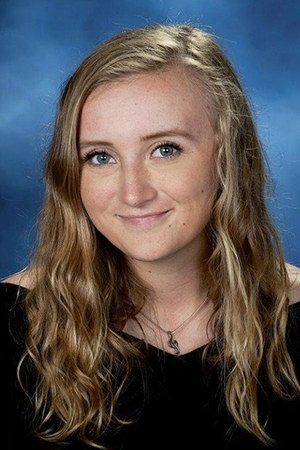 Music/Instrumental
2nd Place
Morgan O'Neil
South Fork High School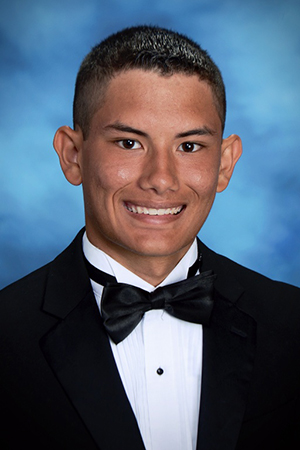 Music/Instrumental
3rd Place
Nasser Rossman
Park Vista High School
---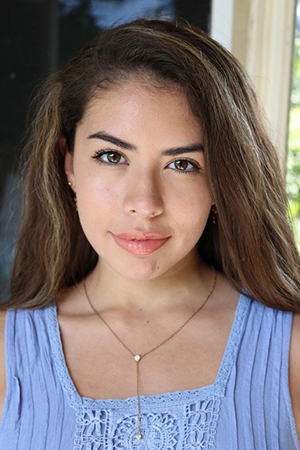 Music/Vocal
Winner
Laura Santamaria-Mendez
Dreyfoos School of the Arts
As the daughter of Colombian immigrants, Laura Santamaria-Mendez was bullied as a child for being different. To combat loneliness, she escaped into books where she gained a passion for poetry. Poetry, she would learn, plays a huge role in opera, which soon became her passion. Laura was chosen in 2016 to join the Palm Beach Opera Studio, a selective high school training program. That allowed her to attend operas, take lessons and masterclasses, and watch rehearsals. She knew then she wanted to be an opera singer. So far, she's performed at 7 prestigious venues, including a solo performance at the 2018 Palm Beach Opera Guild Gala in Palm Beach. Last year Laura earned a Superior with Distinction award from the Florida Vocal Institute Competition. She hopes to become an opera soloist.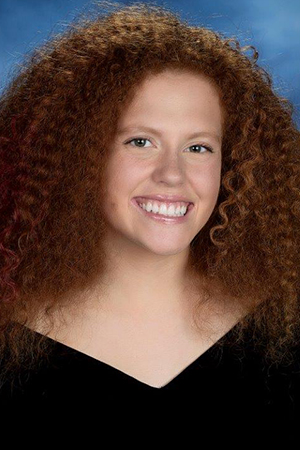 Music/Vocal
2nd Place
Madeline Murray
South Fork High School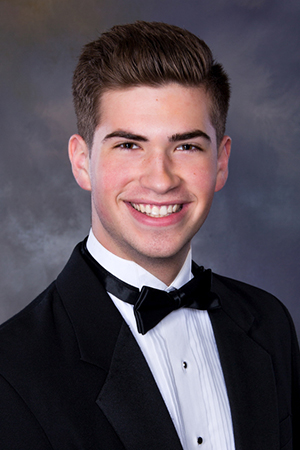 Music/Vocal
3rd Place
Clayton Hider
The King's Academy
---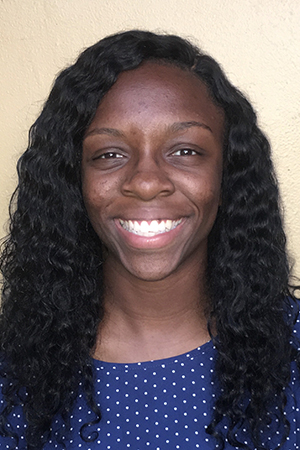 Reach for Excellence
Winner
Cassandra Michel
Olympic Heights High School
From her earliest days in school, Cassandra Michel had trouble learning. She described herself as being "completely lost" in first grade. Later that year she was diagnosed with a visual integration learning disability. She began taking advantage of extra time to complete her work and tests. With grit, determination and willingness to seek help from teachers and classmates, Cassandra soon excelled academically. Last year she took, concurrently, not one but two super-challenging AICE classes. One in sociology. The other in psychology. She was the top AICE sociology student that year. Cassandra has a 4.6 honors point average and is an AP Scholar with Honors. She's president of Family, Career and Community Leaders of America and captain of the varsity track and field team. Cassandra aspires to earn a master's degree in neuroscience and a Ph.D. in psychology.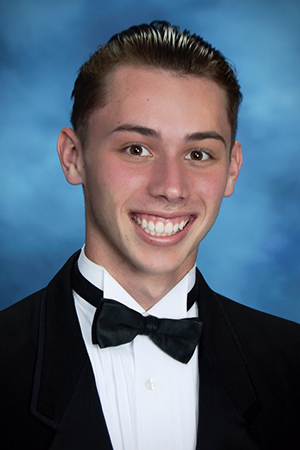 Reach for Excellence
2nd Place
Joseph Hughes
Palm Beach Central High School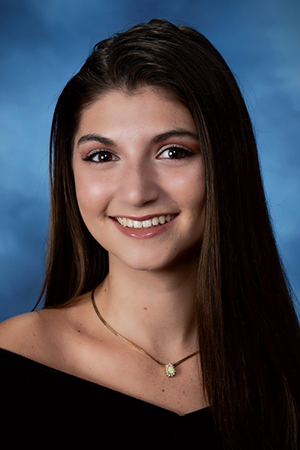 Reach for Excellence
3rd Place
Abigail Weissert
Park Vista High School
---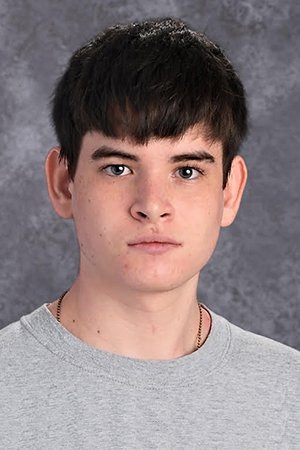 Science
Winner
John-Mark Phillips
Seminole Ridge High School
Last summer, John-Mark Phillips was one of only 10 students in Palm Beach County chosen to be a high school researcher at Scripps Research. His mentor deemed him the top student he's ever worked with. He cited John-Mark's "unparalleled" ability to grasp advanced concepts in the chemical and biological sciences. John-Mark has taken 6 highly-challenging AICE courses and is on track to earn both his high school diploma and AA degree this year. His numerous accomplishments include winning, placing or receiving a special award in 9 regional and state science fairs and earning several academic awards and scholarships. For the past 3 years, John-Mark represented Palm Beach County at the Florida Science and Engineering Fair. John-Mark plans to become a research scientist. He's especially interested in being involved in the exploration and colonization of Mars, with a particular focus on how biotechnology will play a role.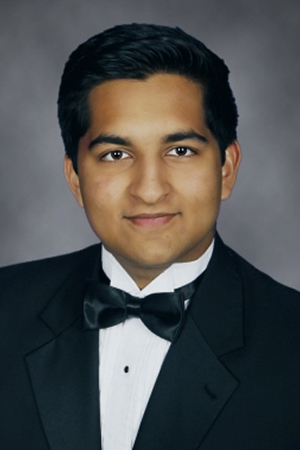 Science
2nd Place
Rishabh Mohanka
Suncoast High School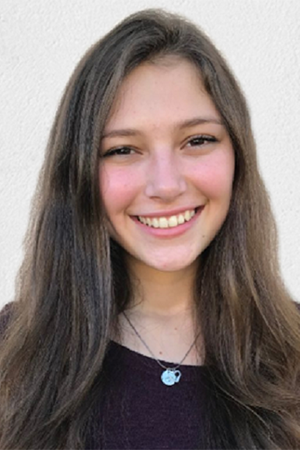 Science
3rd Place
Taylor Knoll
Boca Raton High School
---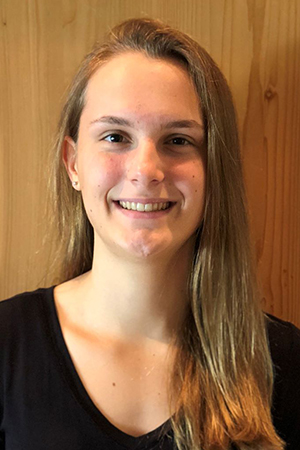 Sports
Winner
Audrey Ramsey
Boca Raton High School
Since 10th grade Audrey Ramsey has been the starting point guard on her school's varsity basketball team. As a 10th grader, she hit the winning shot at the buzzer to win Boca Raton High's first-ever Girls Basketball state championship. That play was recognized as play of the year by PBC Hoops, and she was named state championship player. Audrey has participated since 2017 as a starting point guard with travel basketball team Boca Thunder. Prestigious recognitions include being named Palm Beach County Hoops Player of the Week and ESPN Range Rover Player of the Week. Off the court, Audrey has earned A's in all AP and AICE classes and has a 5.38 honors point average. Audrey has been signed by the University of Tampa for women's basketball where she plans to play ball while earning a degree in cybersecurity.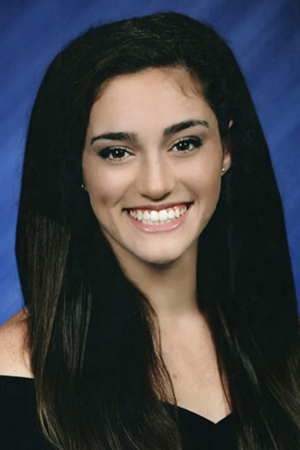 Sports
2nd Place
Julia Wortman
Wellington High School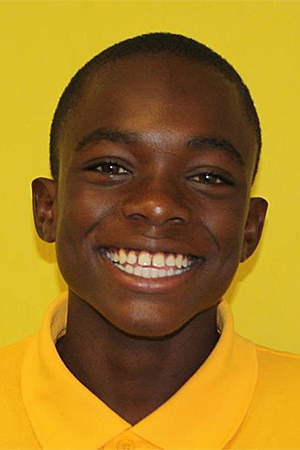 Sports
3rd Place
Odieu Hiliare
Glades Central High School
---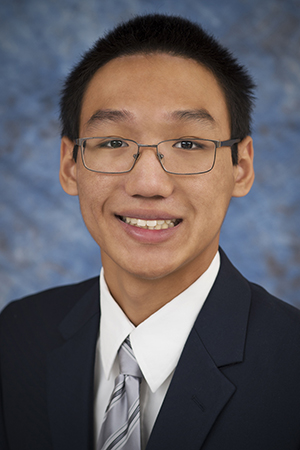 Technical/Vocational/Agricultural
Winner
Luke Han
Dreyfoos School of the Arts
Luke Han was born with a serious hearing loss that wasn't detected until he was 5. By then he had developed a speech impediment. Disliking hearing aids, Luke managed school by sitting close to the speaker and reading lips. He credits his disability with helping him learn to think independently and to mentally prepare for scenarios where one needs to remain calm. This brought occupational health, safety and preparedness to his attention. Through Resolve Maritime Academy, Luke received a foundation in firefighting, first aid and medical training while being active in school activities and maintaining a 4.8 honors point average. He's currently president of the Environmental Club, secretary of UNICEF and plays varsity soccer. Luke plans to attend a university with a strong industrial engineering program. Upon graduation he hopes to work with a firefighting agency to help prevent and fight modern fires.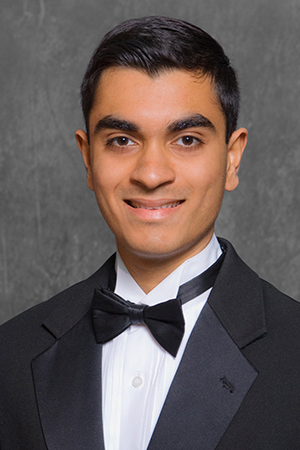 Technical/Vocational/Agricultural
2nd Place
Tushar Shenoy
American Heritage School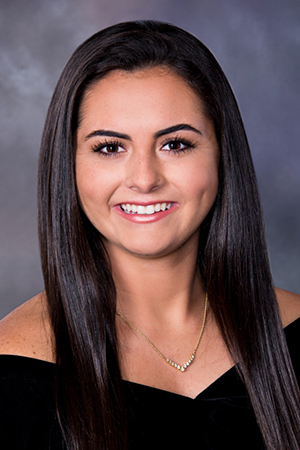 Technical/Vocational/Agricultural
3rd Place
Kamryn Kennedy
Glades Day School